Rigid shaft couplings are an important component in many applications that require precise transmission of torque and speed. They are typically used in applications where there should be no vibration or movement between the two shafts. Unlike flexible shaft couplings, rigid shaft couplings do not offer flexibility but provide high rigidity and stability.
Rigid shaft couplings are made from materials such as steel, stainless steel and aluminum.
The installation of rigid shaft couplings is relatively simple and does not require any special knowledge or skills. Couplings are usually attached with bolts or hubs and are quick and easy to install. Rigid shaft couplings have no moving parts, so they are easy to maintain and only require occasional inspection for wear and damage.
Some of the main technical characteristics of rigid shaft couplings are:
No wear: Rigid shaft couplings are not subject to wear and are maintenance-free.
Independent of the direction of rotation: Rigid shaft couplings can be used independent of the direction of rotation.
Frictional connection: Rigid shaft couplings provide a frictional connection between the shaft and the coupling.
We offer:
Slotted and fully split versions: We can supply rigid shaft couplings in slotted and fully split versions.
Keyway and different shaft diameters: A keyway and different shaft diameters are available on request.
Available from stock from free-cutting steel and 1.4305
Surface Treatments: As with our set collars and clamp rings, we offer rigid shaft couplings with all common surface treatments from blackening to galvanizing.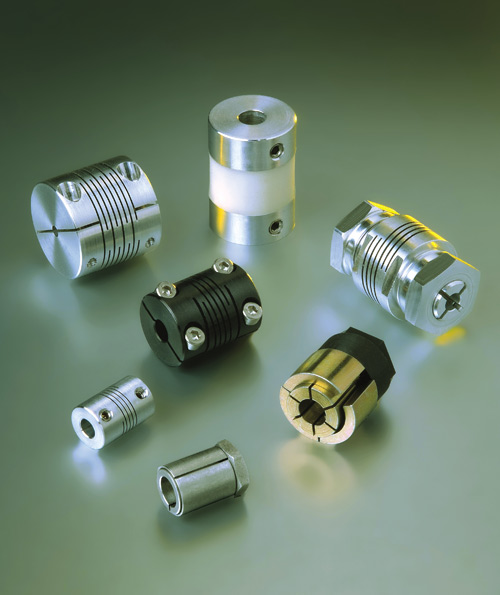 Miniature Couplings & Collets
The miniature couplings, made from one piece, have single or multiple spiral cuts, depending on the application. This enables high torsional rigidity and an effective reduction in winding effects. Angular displacements, axial displacements and radial displacements are also effectively compensated. Due to their reaction forces in measurement technology and the acceptable torsional stiffness values in linear technology, the couplings are used for general positioning requirements with low torques and load moments. Miniature couplings also serve as a connecting element between highly dynamic servo motors. They are characterized by simple assembly and disassembly and fit into almost any application thanks to their compact design.